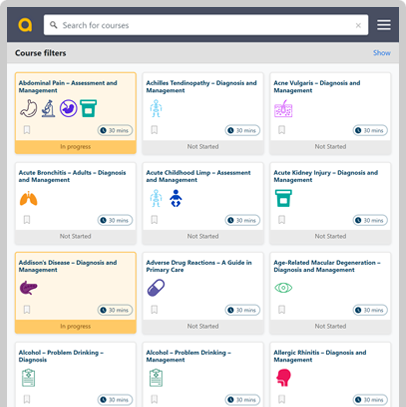 Introducing iLearn
New courses added every month
Up-to-date evidence based content
Bitesize e-learning courses designed for convenient CPD
CPD Certified certificate available to download for every course
Clinical
Based on NICE CKS topics. Over 430 topics to choose from, with up to 10 new added every month.
View our courses
Available with a Clarity Plus subscription.
Statutory & Mandatory
Required by GP practices and all healthcare professionals. Aligned with the CSTF and regulatory standards.
View our courses
Available when your GP practice has an iLearn add-on for TeamNet.
Subscribe to Clarity Plus for access to our clinical e-learning
A Clarity Plus subscription will give you access to 430 high-quality eLearning courses, with 30 more coming in the next 6 months. 10 new courses are added every month and include audit suggestions and MCQs. All content is written by the same authors who create trusted Clinical Knowledge Summaries for NICE.
Please note: If you already have a Clarity Doctors account you can log in and upgrade to Plus, if necessary. If you do not have an account please register below.
More about our CKS authors and e-learning modules
Did you know that we create the content for NICE Clinical Knowledge Summaries? Our team of expert authors also write our e-learning for both our clinical and statutory & mandatory libraries.
Their expertise and responsibility to maintain CKS means that our e-learning courses are written by some of the most experienced authors in the UK, providing you with the most up-to-date evidence-based sources of information.

Clarity Informatics is NICE accredited for the process of creating CKS content.