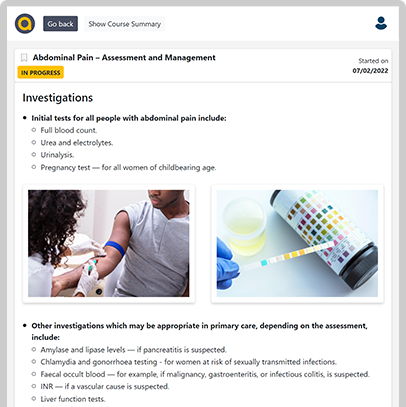 About iLearn
Our e-learning courses are written by experts in primary care with over 100 years of combined clinical practice. The courses are developed and reviewed by a multidisciplinary team consisting of:
Clinicians
Pharmacists
Information specialists
Technical authors
More about our CKS authors and e-learning modules
Did you know that we create the content for NICE Clinical Knowledge Summaries? Our team of expert authors also write our e-learning for both our clinical and statutory & mandatory libraries.
Their expertise and responsibility to maintain CKS means that our e-learning courses are written by some of the most experienced authors in the UK, providing you with the most up-to-date evidence-based sources of information.

Clarity Informatics is NICE accredited for the process of creating CKS content.

Evidence-based
Our e-learning courses are developed and updated using the best available evidence. For our clinical courses, this includes high-quality secondary evidence from NICE accredited resources, such as NICE guidance and SIGN. Primary research and expert opinion is sought where necessary.
Our statutory and mandatory courses are authored using evidence-based content from NHS England, national legislation, Health and Safety Executive and more.

Always up-to-date
Our e-learning content is continually reviewed and updated to ensure it is relevant and accurate. We undertake weekly horizon scanning to deliver regular updates and up to 10 new clinical courses are published each month, and up to 5 new statutory and mandatory courses.

For primary care professionals
The courses have been designed to support healthcare professionals in primary care including:
GPs
GP registrars
Practice nurses
Community pharmacists
Dispensing technicians
Healthcare librarians
Medical, nursing and pharmacy students
Paramedics
Healthcare navigators

Topic development
CKS topics are developed for NICE by Clarity Informatics using an accredited development process. This same process is used to develop and review clinical e-learning courses and includes the following elements:
topic development and selection
scoping
literature searching
evaluating and summarizing the evidence
creation of clinical vignettes
creation of multiple-choice question
proofreading and testing
publication

New courses
Our course development panel take into account the following when developing new topics:
new NICE clinical guidelines
new pressures affecting primary care as highlighted by the Organisation of Health and Public Health England for example, the coronavirus issue and the National Data Opt-Out
the GP curriculum
the National Core Skills Training Framework
the Care Certificate

Updates
Courses are fully reviewed and updated every year. We will update a topic sooner if significant new evidence emerges such as:
publication of new/updated NICE guidance
new updated national polices or safety information
changes to products licenses and device availability
other important new evidence